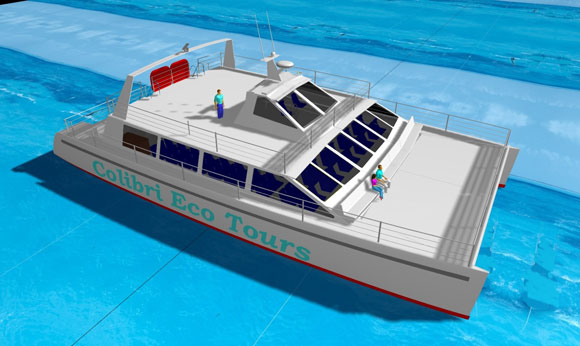 This office has been a leader in creating efficient, user friendly passenger ferries.
Most of the catamaran ferries that I see are designed by large design offices, and in my opinion, designed badly. They are usually metal, are heavy, have poor efficiency, and a poor ride, compared to what they could have. There are significant reasons for that. Those catamaran ferries come from offices who have been designing single hull ferries decades.  They do cats now like they always did the monos.
I come from a sailing catamaran background.  Instead of just piling on the horsepower, efficiency is important.  I carry these lessons to the passenger cats that I design.  I expect the gold plate design offices will figure this out in 5 years or so.  That technology here now. For more discussion ofdisplacement power multihulls see this article.
We offer a full line of USCG-certified multihulls and the experience in working with the Coast Guard to get owners operating in the least possible time.
KHSD Charter multihulls emphasize functional, efficient design combined with longevity and durability. Many of these designs can use rapid construction technologies for hulls and house cabins.