I was sent a link to the launch of one of my 45 cats. It does not say whose boat it is. Splashy orange paint makes it look like a G4.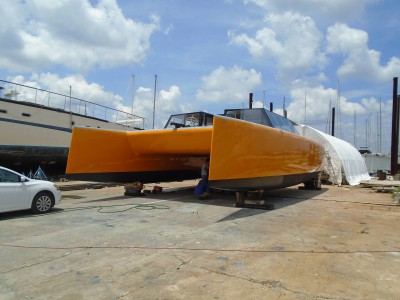 I do have several concerns upon looking closer.  Where did the forward cockpit come from?  I thought both Lat 38 magazine and I made good cases against doing that.  Imagine opening the front door slugging  to windward in a gale.
Next, vertical windows?  Trying to imitate Gunboat again?  Even my F150 doesn't have vertical windows.   I can't tell if the window framing is plywood or foam/glass, but my sense is the windows will be blown out in the first chop the boat encounters.  That would be survivable if the boat had a weather deck.  That is coamings at the companionways.  It does not.  I hope I don't see this unit on the news.  A design is not a basket of features; it has to have an underlying cohesion of concept.