I see this article on how to build boards is making the rounds on the internets. http://smalltrimarans.com/blog/?p=12289  People, don't do a foil that way. The writer either has never pushed his boats or does not do math, or both.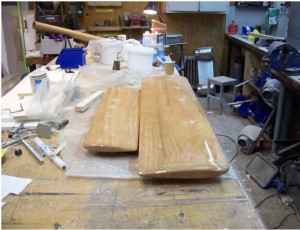 Makes a nice sculpture but not for real boards.
 Stressform, which he uses to to form the boards, is a fine way to make many things including masts and hulls.  But not boards.  As you all know, a board is a heavily loaded beam.   With a huge point load usually about half way up it.  Typically deflection calculations govern on board design.  The board in the above link has thin plywood skins.  The skin of any board can do the majority of the beam work as it is farthest from the centroid.  But plywood has only about 1/8th the modulus of carbon fiber.  So it will be about 8 times more bendy.  Carbon fiber will have between 10 to 20 times the bending strength also.  Carbon fiber should be used on all boards with an aspect ratio of 3 or more, which are most of mine.
In this how-to, there is a lumber spar down the center.  And he adds carbon to it.  But it is at the centroid of the foil.  That is where material contributes the least to structure of any place on the foil.  So they put the carbon fiber where it is least useful.  Stuff done wrong.  The spar is supposed to also provide shear transfer between the two sides.  It does, but only for about 10 times the skin  thickness either side of the spar.  So most the plywood is also wasted as a beam in this scheme.  This why I have core everywhere in a board.  It transfers all the loads from one side to the other.
Finally, remember that point load  halfway up the board?  It can be several thousand pounds load on one point.  Compression strength perpendicular to grain of the plywood will be between 100 psi to 300 psi, depending.  Carbon fiber will be thousands of psi.  The board failures that I have seen have been compression side buckling.  This looks like buckling waiting to happen.
I have a new 14 page chapter on how to build foils in both the new CM Construction Manual and in the Composite Construction Manual.  I will put those online next week and make available here.  Just trying to do an intervention everybody, before its too late.  I already am too late on one guy.  He bought Kohler plans to an imaginary cat that was a textbook example of Things Done Wrong.  More on that soon.