another great video from Simmo. http://www.youtube.com/watch?v=-WpFmCX6AM8  At first I didn't notice Simmo roaring up behind the also racing Dragonfly 920 Extreme like it's at anchor!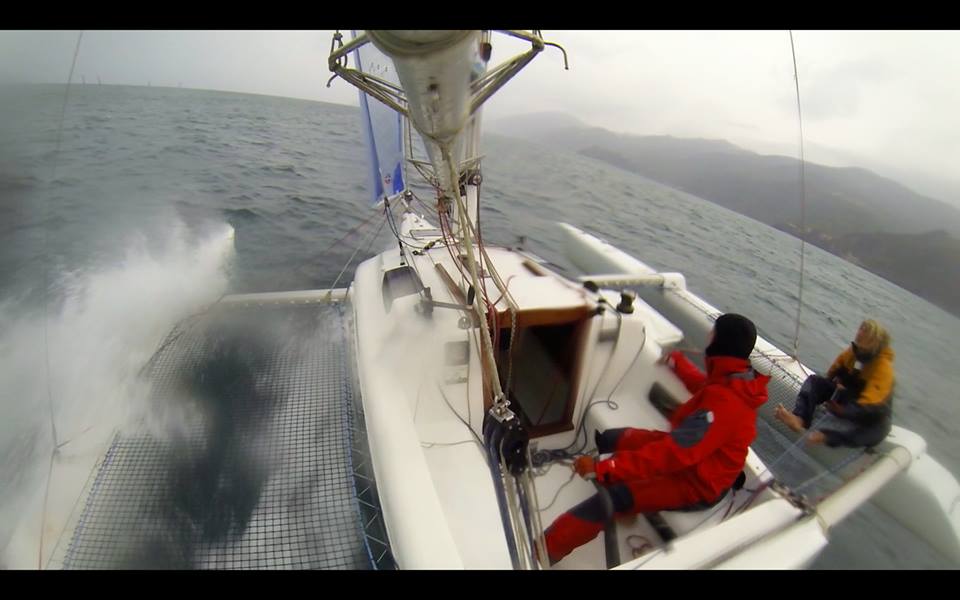 2nd place for Muffolo at first day of Coppa Dallorso 2013 Regatta (28 nautical miles of racing course) just 9 minutes gap from the first much bigger Trimaran (Dragonfly 920 extreme) battling to the end and beating a 50 footer mega oceanic trimaran, a 8 meters trimaran (Dragonfly 800), and a 7,50 meters catamaran!
1st place in the second race of the next day, with 54 minutes gap from the second (Dragonfly 920 Extreme), a day characterized by strong gusty winds and gales. Starting with strong offshore wind that made us battle side by side at a speed of 18.3 knots, then, near Monterosso, weather wanted to vent all his anger with a huge storm, with gusts detected at 63 knots. Luckily we managed to haul down all the sails on time and we avoided going to the rocks dragged from the fury of the storm, but the scenery around us was really looking like "the perfect storm" movie: sails flapping hard enough to sound like thunders, blowing up sails, boats drifting at the mercy of the gusts at 90 ° heeling with crews in total panic calling for help, and all this in a visibility up to 20 meters! The whole thing lasted a full 30 minutes!!
After this we hoisted the sails again and we resumed our race surfing between 12 and 18 knots until the arrival, finding that the direct challenger was still behind us.
The photo shows one of the rides at 18 knots before the perfect storm arrived.
A Huge thank to FORMULA sponsor for supporting us giving us blue new wonderful sails and SAILORWEAR SAILS for finishing them!
And thank to my father for building Muffolo SUPER STRONG 15 years ago!!