Back when I was wowing about a $100,000 design fee for a 52′ cat, the fellow who calls himself Ocean Cruiser correctly noted that if I were famous I could get those fees. Since I'm not, deal with it. He is right. And its not the first time I have been put in my place, or replaced by the famous designers.
It was back in the end of '91 that I got a commission to design a 61′ trimaran.  It had all the makings of being amazing.  It was the first design that I had done in 3D CADD.  It had complicated organic NURB surfaces that needed to be trimmed to each other in 3D to understand how they worked.  Nobody was doing that back then.  Paul Steinart, Phd did the FEA work.  Reichard helped with laminates.  It was going to be amazing.  It would be light and quick, with only twin outboard power.  But the builders convinced the owner that I was a nobody, and if the project was to get the fame it needed, he needed a famous designer.  I hear it might have happened again.  Maybe some Alastra fame effect.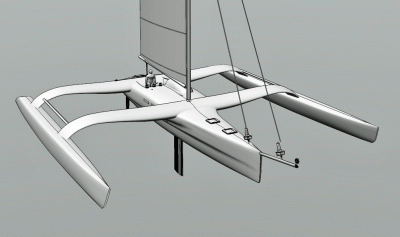 About the same time I did schematic design on a 40'something cat with undstayed mast.  I proposed that it have no main beam, but that the cabin slope 4 ways down like a tetrahedron to the decks.  It seemed to work.  I recall the owner was so nice and was from far away.  When Ricco visited, he told me he liked the design, but he needed a famous designer.  He hired Nigel.  I was pleased to later see that it was built, in NZ as I recall,  exactly like I proposed it.  I have not found pictures of it yet.  It had a name like Joseph or something, and was painted purple or chartruse or something.
My point is I understand the fame thing and agree that I just have to keep working and live without it.  No fame here.  Never will be.  Just working the problems.