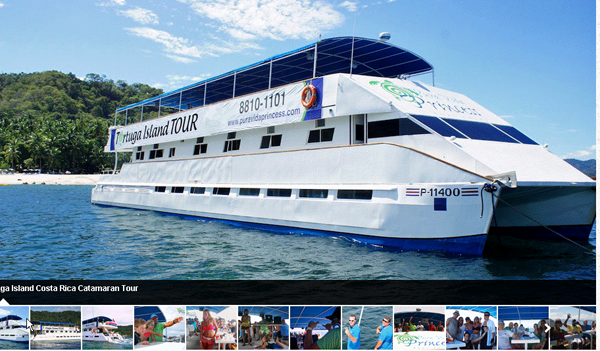 "SAN JOSE, Costa Rica – A catamaran carrying dozens of foreign tourists on a pleasure cruise capsized off Costa Rica on Thursday, killing four people, emergency officials said.  The boat, which was on a day trip to the popular Tortuga (Turtle) Island, sank completely about 9 miles off the country's central Pacific Coast.
Survivors reported that strong waves filled the boat with water and caused it to sink, he said."
This could be another chapter in Stuff Done Wrong.  I don't know any more than the above, but can speculate on forensics from the pictures.  Like most corporate designs, way too narrow overall.  Is it even 20′ wide?  Probably was a beam-on wave hit it.  Clearly it it metal.  Many places in South/Central America choose steel for budget reasons.  Surely would help it sink.  It also is stuffed from end to end with deck.  That also makes surviving the waves harder.  Compare to Holo or Kai Oli Oli.
I wonder if Derek will be upset that I was first to report this in multihull media again?  And that it sank?  And thanks, Lance.  My guys always seem to be first with the news.