It looks very stylish to have the aft beam of a cat as far back as possible.  Its kind of like skinny tires on a lowered car.  It does move the CG back a bit which helps if sailing deep in strong wind.  In the most common conditions, it causes the transom to drag.  To prevent that at least one ultra famous designer packs more displacement back there in the form of rocker.  That rocker levels it out at rest but can cause squatting at speed.  In the case of ultra famous, the cats don't  squat when sailing; the center of effort it way up there.  In his powercat modification of that design, it squats so much that he added trim tabs.   The pic below is not that designer but another example of too much rocker aft.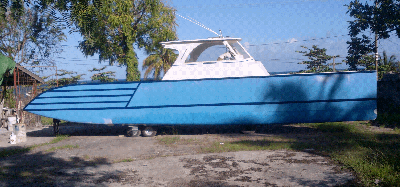 The new Gunboat G4(accidentally typed G$ which may be better), has aft beam way back there also.  It however is all carbon so it is very light.  It drags transom at rest but with so much power it is not a concern.  As I always say, with enough money and enough carbon, you can do almost anything.
On normal cats I find it best to have the aft beam far enough forward that the hulls can have a fairly flat run aft.  Related, the goal is to have as skinny and as rockerless a hull as possible, to carry the weight.  The weight/trim spreadsheet helps with this location also.