I think it was some 20 years ago that I first did my sliding cross tube trimaran design.   Several other people offered suggestions, some of which were included in the design, including the UHMW centerline dropboard.
Many commentators told me that it would never work.  Several have been built since then but nobody has ever filmed one sliding.  If I had any sense I would have built one instead of the Geko.
I did know that some other trimaran designs had started doing sliding tube designs, but I had not seen one.  Finally some video of  a design at
http://www.astusboats.com/   The tube connections to the amas are sketchy and I see no centerline compression resolution method, but.
the video http://www.astusboats.com/transportable-boat/trimaran/astusboats-sailboat.php?id=266&cat=Videos&page=Videos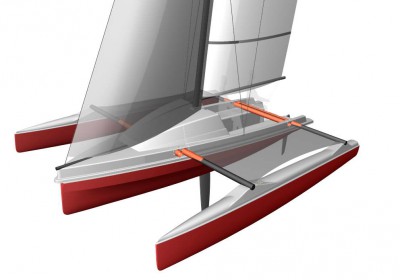 and here I go again.  20 years ago or so.