McConaghy 60 Catamaran.
This splashy, silver-rendered catamaran does have cool features like boards, and swept bows and rotating mast. And did I hear carbon fiber is involved?  How cool is that?
It seems to lack a coherent mission statement though. It seems more like a couple dozen cool features spliced together by a beginner, than by the reputed experienced designers.
It has come to my attention that many of the conclusions that I came to from the pictures are wrong.  If so, I stand corrected.  For example, I thought from the minimal draft and use of carbon, it would be crazy light, which is good for speed.  I understand that at 8.9 tons, its not as light as it looks.   I also thought it was surprisingly narrow overall at  8.6m or 28′.   It is also true that many of its peers are that narrow.   My 60 is wider, though not that much wider at 30′.  I will say that in the picture below, beam overall looks to be about 20′.   That narrower beam lets them fly a hull very quickly.  It could be very fast in even lighter winds.    It is supposed to be a cruiser.  With carbon beams, why not make it wider and give the extra righting moment and safety.  Ok Ok, by being wider one would not fly a hull as easily and could lose a beer-can race.  I have also been informed that at 75′ it has a very conservative rig.  Isn't that like having a Shelby Cobra with a Honda Civic engine in it.  Why not give it a proper beam and a hotter rig?  To match the badass look.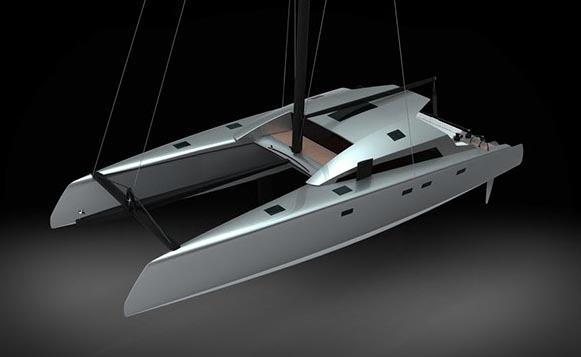 The house front is actually vertical. Even my pickup truck has some slope on the front.   It has those trick swoop things on the sides though to make it look sleek; like the pug nosed ferries do to hide the pug.
I wondered if the first green wave (reverse bows do make wetter ride) trapped there would blow the front windows out?  I have been informed that it will not.
And near as I could tell from the pictures, a wave boarding from astern had nothing to stop it from surging all the way downstairs, on both sides.   I have been informed that it has doors and storm-boards.   I have to accept that.
And I noticed no non-skid covered up the shining floor.  I have been informed not to trust my eyes; it is non-skid.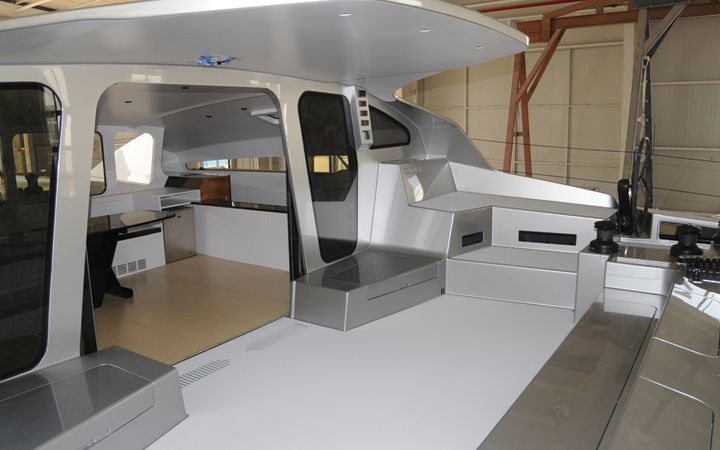 Performance cats are expected to have small cabins. This is odd though; its smaller even than it needs to be. With elegant engineering, the beam shear web will be pretty near the mast. So why is all that "outside" there between the cabin front and the mast?  Is it a place for the half dozen professional crew to stay?  In my opinion a cruising boat should be able to be single-handed or short-handed.  Usually that means the strings go aft to the helm, or helms.  So why that stadium around the mast?  If it were sailing in the Bass Strait like the night I was there, you could not be up there working the strings.  Maybe they need a Bass Strait online pharmacy vacation.
Gunboat, it could be argued is ugly, but is a conceptually honest design.
I do read that the developer of this unit is the convicted securities trader Raphael Blot. I expect he forced these cool features together and the guys drafted like he ordered.  It could have been so much better.