I was approached, along with the rock stars, I was told, to propose a design for the new Stiletto 10 meter catamaran. A kind of cruiser/racer with the iconic canopy as a kind of trademark. Said he had been in the Gunboat and J boat projects. The design brief was a bit unusual. It needed quick set up but must have no crossarms. The cockpit must be the crossarm. I did not know how that would work forward. I proposed Rafi's fold system. Developer was not impressed I guess.   I put standard tubes on it for now.
The rest of the design brief was to be like an M32 with a minimal interior. Begs question why not just have an M32 if there will be no interior? My flared hulls would allow a pair of doubles and keep a skinny waterplane for speed.  I know nothing about marketing, but am sure it has always been true that if the toys are not shared, many of us would not have the toys.
It could have been simply trolling for ideas. I have had that happen several times before.
So I did a couple of quick models.  M10 is pretty straightforward.  M11 is very wild with defined edge lines.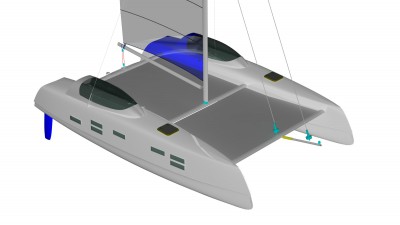 and the wild one