So who is this guy?  And if he has had a naval architect or P.E. sign off on it, I would apologise for questioning its safety and wish him well.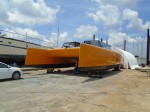 But I got this under the title of  "I wasn't kidding"
"Expect legal correspondence shortly.
You do not have permission to publicly display my boat, make private correspondence public or  defame me or my asset.
Fuck you, Kurt
Enjoy.  Hope the legal side bankrupts you, asshole."
Still no name.  And maybe a couple of "nor" instead of "or" are called for?