Recall I was sent pictures of what was stated to have been one of my cats. The revisons looked very dangerous to me and I had not authorized them.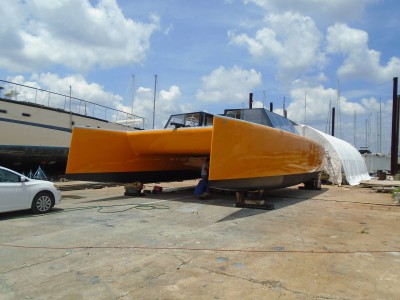 I got this from someone going by the name Ocean Navigator. I  say what I see. To me it looked like a rescue waiting to happen. I wanted no mistaking that I was responsible for those revisions.  Windows are not to be taken casually.  Kelsall had one blown out in the last year or two resulting in the cat being lost.
And if I may, my window design never was intended for vertical windows.  You may not know that the wave forces are much higher on vertical windows.  I also did not design minimal framing.  Mine has much more beef.  And I can see your companionway down into the hull.  There is no 6″ coaming there.   I just report what I see.  So who are you anyway?  And if that is not how it will finally be built, say so and I will apologise.  The house looks pretty finished to me.  You don't need a war, you need advise on making this seaworthy.
"You take some random pictures of my UNFINISHED boat, put them up on your blog and proceed to trash it?!?!  WTF is that?
My boat was painted and buttoned up for weather so it could be moved (via the intracoastal waterway) to another location for another year of work on it. 
I used your fucking window specs from the plans.  It's all foam/glass.  It has fucking combings everywhere (as well as drains).
Unbelievable.  Why in hell would you start a war with someone who is trying to complete one of your boats?
Don't even think about naming me on your blog or I'll get attorneys involved for a defamation of character suit.